News
January 2019

Green Season in Ruaha.
We have had what they call the 'planting rains' in the southern highlands of Tanzania.
They start early December for a couple of weeks and green up the whole landscape!
Compare these shots with the last ones posted from July. The whole area comes alive and the colours change from grey to 50 shades of green.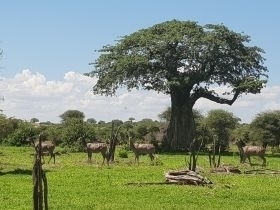 The Hodi Hodi Bush Camp build.
Four rooms are thatched, one has decking in, and the other three will be roofed next month. Between January and April we hope to complete all the structures. This is a busy site!
Opening date will be second half of 2018, starting with a soft opening, to practice on 'friends, residents and family'.
Meanwhile, back in Zanzibar..
It's full house for Christmas and New Year - the weather is fantastic, we had a fabulous full moon rise, and everything is looking beautiful! Our guests are from all over the world, with ages ranging from 7 to 70.
We still have availability from late January to mid April if you hurry and book..


Hodi Hodi Corporate Social Responsability.
Hodi Hodi Zanzibar has always worked closely with the fishing village community of Kilima Juu which is just 500m along our beach, by using only local village staff and supplies. We have also over the last 4 years built a madrassa nursery school completely, plus providing annual school supplies, building 2 classrooms for the junior school, and we also bought all the plumbing equipment for the senior school.

Now Hodi Hodi Ruaha, even though it is not yet itself built, is doing the same for the farming village community of Makifu, the village 10kms away behind our mountain backdrop.
We have raised money in the UK and Tanzania to build a house for the village doctor. That project is ongoing as we continue to assist to fit out the clinic and provide a motorscooter for the midwife.
Meantime, Makifu village has asked us to help to build their new secondary school.
Two classrooms will be ready for the first intake of First Formers in January 2019 thanks to donations from the Hodi Hodi directors.
And there's more to come : once we are open we will be supporting Makifu in many other ways.. so we'll keep you updated.