HODI HODI BUSH CAMP -
A PRIVATE NEW GETAWAY IN THE TANZANIAN WILDERNESS
HODI HODI - authentic, classic safari experiences in a conservation concession.
"BORDERING THE LARGEST NATIONAL PARK"
"What a privilege to have the custody of wide plains, deep forests and craggy mountains all to ourselves!"
JAKE BISHOP
HODI HODI RUAHA DIRECTOR.
Introducing our five double and two quadruple tents, sleeping a private couple or an exclusive party of 20, spread along a high ridge overlooking 50,000 square kilometres of acacia woodland and savannah, to the far edge of the great rift valley.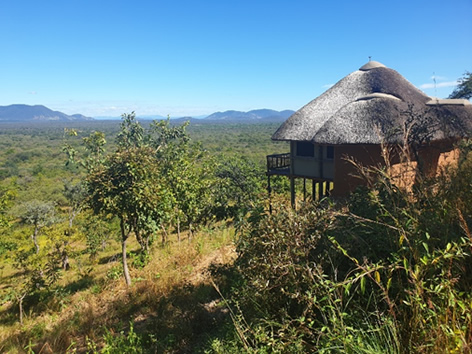 DOUBLE ROOMS
(Rooms 1-5)
Built for comfort and simplicity, the solid wall bathrooms are made from bricks from the kilns in the nearby village, rocks from the mountainside behind supporting stilted canvas structures, and thatched rooves made from local grass. With furniture, flooring and decking of locally grown plantation teak, and ample solar hot water and light, our rooms are sustainable, unpretentious, and minimalistic.
Stepping inside you are met with a 180-degree view through the mosquito netting of the tented front and sides, and you'll see how this location speaks for itself. Twin or Double beds 2.2 metres square, a step-out onto the deck shower, an extra bed for a youngster not brave enough for their own room, and a little desk to sit and contemplate the vista!
Rooms 1-5 are all over 25 metres apart for privacy and are named after the nearby trees - African Chestnut, Bush Willow, Winter Thorn, Jackal Berry and Cluster Leaf. Room 1 is nearest the reception and restaurant and could be suitable for those who are less able to walk far.
FAMILY SUITES
(Rooms 7-8)
Take two standard double rooms and join them with a comfortable lounge and extended decking all under one thatched roof, and you have a tented family suite. Rooms 7 and 8 are on the opposite ridge to the five doubles and are named Mahogany and Marula after the trees closest to them.
Built for two couples who want to stay close together, or a party of friends or family of up to 6 people, each suite commands superb views over the plains into Ruaha National Park, and is a short walk up from the pool, bar and restaurant.
A third private suite, Room 8, named Myrrh, may at times be available for those with a self-drive vehicle who would like an option to self-cater, such as weekending residents of Tanzania.
BAR &
RESTAURANT
The Lounge, Bar, Terrace Restaurant and Plunge-Pool all look over our own waterhole, and the Ruaha Game Park beyond. A place to kick back and relax, re-live the day, and absorb the evening.
Just two and a half hours' drive from Iringa airport in the deep south of Tanzania, through villages and open bush, our little comfortable safari camp awaits you. The feel of Hodi Hodi is that of having your own tented home, where you can unpack, unwind and set up your base camp, There are 8 covered tents perched on the side of a hill, comfortably furnished, with solar power and hot water - for individuals, couples or groups. All have magnificent views down the valley, toward the west and the sunset.
A private area of 200 acres is yours to explore with a guide - by foot, by car by day or by night. It is untouched wilderness. Twenty minutes away is the entrance to Ruaha Park, famous for landscapes and game.
Your experience could include: Waking to fresh mornings and breath-taking views over Africa, an early start on a game drive into the park, and the thrill of your first elephants browsing by the roadside. Brunch in the wild under a magnificent baobab tree. Exploring dry riverbeds, watching herds of buffalo and waiting for hippo to emerge from the pools. Learning about the ecology of this fascinating area. Bird watching in the heat of the afternoon. Returning to camp as a leopard starts to stir and begin the evening's hunting. Tracking game on foot with a Maasai guide, looking out for the small things you can miss from a car. Cooling off in the plunge-pool with a cocktail, gazing at the sunset, then a delicious alfresco dinner. Or cook on your own campfire, lie in a private star-bed under dazzling night skies. A cosy sleep, drift off listening to the crickets, a hyena, maybe distant lion roaring.
FACILITIES
HODI HODI - WELCOMING FAMILY & FRIENDS
Ideally stay a few days and use us as your base camp to really get to know this vast and varied area of mountain, plains, rocky outcrops, rivers and forests, all within easy reach.
Comfortable hybrid house-tents, full solar powered.
Ruaha National Park, with all its amenities, 20 minutes' drive away
Three Land Rover safari vehicles seating 2 to 8 people.
Private reserve with own game viewing, night drives, walking safaris, off-road 4x4 driving.
Lounge with self-service beverages, covered or open dining.
Honesty bar sunset views, plunge-pool and sundeck.
All food ingredients from local farms – home cooking with vegan/vegetarian options.
A game waterhole in front of the restaurant where animals may come to drink.
A Sample of the excursions and activities on offer.
The excitement of a true TANZANIAN SAFARI
A PLACE TO CELEBRATE WIDE OPEN SPACES, AND THE LOVE OF NATURE, FRIENDSHIP AND LIFE.
WE CARE ABOUT THE PLANET, THIS LOVELY PLACE, AND THE PEOPLE HERE - - AND THAT INCLUDES YOU.
AS PART OF OUR COMMITTMENT TO FOLLOWING RESPONSIBLE TOURISM GUIDELINES AND LOCAL REGULATIONS, WE:
Provide sanitizer, hand washing and have masks available for all guests
Follow social distancing recommendations
Use water and power with care
Only use locally obtained materials with all building
Honour, train, and support our staff as we would family members
Choose game drive vehicles that are fuel efficient
Measure and Mitigate our Carbon Footprint
Only employ people and use suppliers who are local to our area
Support our village communities with education and health facilities and encourage our guests to participate in their projects
Use no single-use plastic, and recycle / compost all waste
Use sustainable water sources and operate on a full solar system
Help the village to protect this area from cattle grazing, tree cutting and working with anti-poaching groups
Co-operate with all local government and private organisations working in the fields of conservation
Source our food only from the local farming areas
Ensure our staff and guests follow all National Park regulations, even when outside the park
THE ANSWER TO THE QUESTION "HODI HODI?" IS ALWAYS
"YOU ARE WELCOME – KARIBUNI"